Product Description
SDS2000X-E Series Super Phosphor Oscilloscopes
Main Features
200 MHz, 350 MHz bandwidth models
Real-time sampling rate up to 2 GSa/s
The newest generation of SPO technology
Waveform capture rate up to 110,000 wfm/s (normal mode), and 400,000 wfm/s (sequence mode)
Record length up to 28 Mpts
Intelligent trigger: Edge, Slope, Pulse Width, Window, Runt, Interval, Time out (Dropout), Pattern
Serial bus triggering and decoding (standard), supports protocols IIC, SPI, UART, CAN, LIN
Video trigger, supports HDTV

Low background noise with voltage scales from 500μV/div to 10V/div

10 types of one-button shortcuts, supports Auto Setup, Default, Cursors, Measure, Roll, History, Display/Persist, Clear Sweep, Zoom and Print

Segmented acquisition (Sequence) mode, divides the maximum record length into multiple segments (up to 80,000), according to trigger conditions set by the user, with a very small dead time segment to capture qualifying events
History waveform record (history) function (maximum recorded waveform length is 80,000 frames)
Automatic measurement function for 38 parameters as well as Measurement Statistics, Zoom, Gating, Math, History and Reference functions
1 Mpt FFT

Math and measurement functions use all sampled data points in memory (up to 28 Mpts)

Math functions (FFT, addition, subtraction, multiplication, division, integration, differential, square root)
Preset key can be customized for user settings or factory "defaults"

Security Erase mode

High Speed hardware based Pass/ Fail function

16 Digital channels (MSO) (option)

Bode plot

Search and navigate

USB AWG module(option) USB WIFI adapter(option) Web Browser based control

Large 7 inch TFT -LCD display with 800 * 480 resolution

Multiple interface types: USB Host, USB Device (USB -TMC), LAN, Pass / Fail, Trigger Out

Supports SCPI remote control commands

VXI-11+SCPI, Telnet (port 5024) +SCPI and Socket (port 5025) +SCPI programming over LAN

Supports web control and virtual instrument control panel for both PC and mobile terminals

Web control update rate of up-to 10 times/s provides nearly real-time update rate
Supports Multi-language display and embedded online help
Product overview
SIGLENT's new SDS2000X-E Series Super Phosphor Oscilloscopes are available in two bandwidths; 200 MHz and 350 MHz. They each have a maximum sampling rate of 2 GSa/s and a standard record length of 28 Mpts. The most commonly used functions can be accessed with its user-friendly one-button design.
The SDS2000X-E series employs a new generation of SPO technology. With its excellent signal fidelity, background noise is lower than similar products in the industry. It has a minimum vertical input range of 500 uV/div, an innovative digital trigger system with high sensitivity and low jitter, and a waveform capture rate of 400,000 frames/sec (sequence mode). It also employs a 256-level intensity grading display function and a color temperature display mode not found in other models in this class. Siglent's newest oscilloscope offering supports multiple powerful triggering modes including serial bus triggering and decoding. History waveform recording and sequential triggering allow for extended waveform records to be captured, stored, and analyzed. Also included is the deep memory FFT. This math function uses up- to 1 M samples for the FFT calculation, providing the SDS2000X-E with very high frequency resolution. The hardware co-processor executes true fast measurement and math to all of 28M sample points so that there is minimal distortion on analysis. It also supports searching and navigating, on-screen Bode plot, 16 channel digital /MSO (optional), an external USB powered 25 MHz AWG function generator module (option), a USB WIFI adapter for wireless control and monitoring (option), and an embedded application that allows remote control via web browser. The features and high-performance of the SDS2000X-E oscilloscopes cannot be matched else anywhere at this price.
Ordering information

Product Name

SDS2000X-E Series Digital Oscilloscope
SDS2202X-E 200 MHz
SDS2352X-E 350 MHz

Standard Accessories

USB Cable -1
Quick Start -1
Passive Probe -2
Certification of Calibration -1
Power Cord -1
16 Channels MSO Software
SDS2000X-E-16LA

Optional Accessories

16 Channels Logic Analyzer
SLA1016
AWG Software
SDS2000X-E-FG
USB Isolated AWG Module Hardware
SAG1021I
WIFI Software
SDS2000X-E-WIFI
USB WIFI Adapter
TL_WN725N
Isolated Front End
ISFE
STB Demo Source
STB-3
High Voltage Probe
HPB4010

Current Probes

CP4020/CP4050/CP4070/CP4070A/CP5030/CP5030A/ CP5150/CP5500
Differential Probes
DPB4080/DPB5150/DPB5150A/DPB5700/DPB5700A
Rack Mount
SDS1X-E-RMK
Power Loop Response Analysis (Bode Plot)
Stability is a very important indicator in power supply design. In general, stability measurement requires a special frequency response analyzer, but it is very expensive. Siglent offers an affordable solution:  SDS2000X-E oscilloscope and signal source Power loop measurement with standard Free Bode Plot II software.
· higher measurement sensitivity and accuracy
· Variable excitation scan mode allowed for complex test scenarios of the power control loop test box
· User-friendly UI design
· List and cursor measurements, more intuitive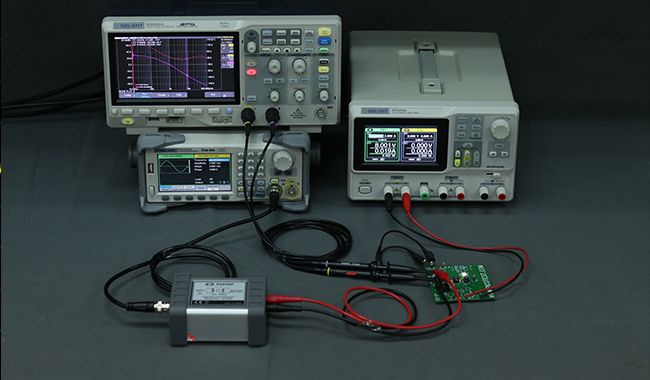 Revolution in Data Analysis Processing
True fast measurement and math to all of 28M sample points so that there is minimal distortion on analysis
With hardware co-processor, faster data operations
1 M point FFT operation
Support Zoom, Gating, Math measurement and statistics
Support 38 automatic measurement functions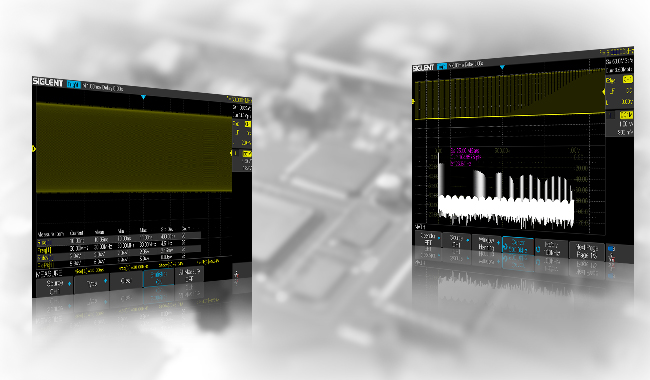 Deep Memory Depth, High Capture Rate
Digital trigger system, high trigger sensitivity and low jitter
256-level Intensity Grading and Color Temperature Display
With a waveform capture rate of up to 400,000 wfm/s (sequence mode), the oscilloscope can easily capture the transients or low-probability events
Using max record length of up to 28 Mpts, users are able to oversample to capture for longer time periods at higher resolution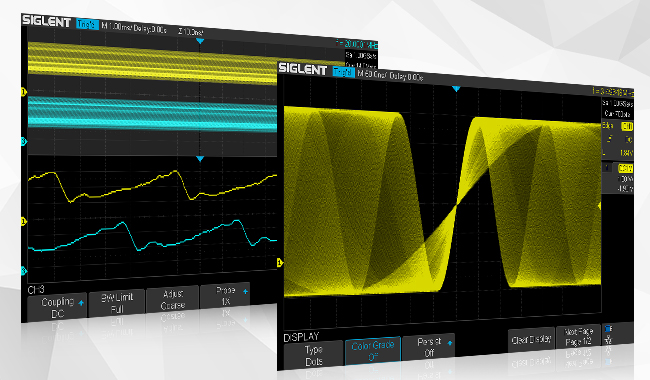 Standard Serial Decoding
Most oscilloscopes on the market do not offer serial decoding for free but SDS2000X-E does. Serial decoding is free and includes IIC, SPI, UART, CAN, and LIN.
The waveform and data can be displayed at the same time and the detailed decoding information is displayed in the form of a list, and the data can be stored and exported.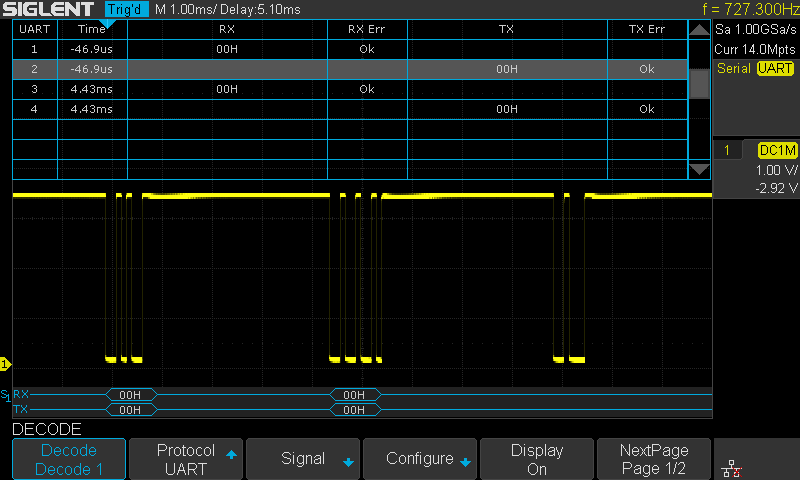 Powerful Debugging and Analysis Capabilities
Event search and navigation to quickly locate events of interest.
MSO logic analyzer integration, mixed signal analysis tool
The combination of history and sequence mode, quickly capture abnormal waveforms
Hardware-based Pass/Fail mode for long-term monitoring signals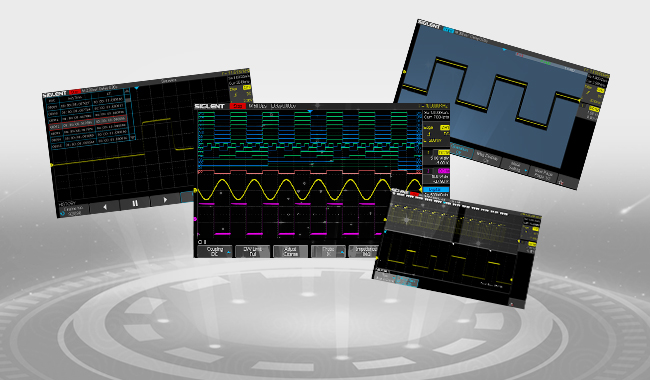 Remote Control via Web Pages
With built-in Web Server, there is no need to install driver software and PC software. You can control the instrument, observe waveforms, obtain measurement results using the browser remotely.  Especially when instruments used in high pressure, high temperature and other special environments. The SDS2000X-E supports both web and mobile web layouts, making it easier to control the instrument even on your phone.
Click (Download Brochure) in RED above for more detail.
.